Manuals for products and services are very important when doing business overseas. Technical documents such as owner's manuals, service manuals, and specifications need to be translated accurately and efficiently from large volumes of text. At Interbooks, our experienced project managers can provide you with an efficient way to translate any file format into over 80 languages using CAT tools, including DTP. If you have any questions, such as "I'm worried about the change in file format after implementing CMS," "I wonder if I can effectively use my past language assets," or "There are many similar sentences in the text, but all the translation costs are handled as new, so it's not cheap," please contact us.
Manual Localization
We translate technical documents, including owner's manuals, service manuals, and specifications, following an ISO 17100-compliant workflow, fully utilizing Computer Assisted Translation (CAT) tools to efficiently manage translation assets.
E-learning Translation
We handle all major file formats and learning platforms when translating a wide variety of e-learning texts, including employee training and text documents, and all types of video training materials.
Software Translation
Software translation is often carried out alongside product development, starting from the beta stage. This enables us to fully understand the product's concept before creating a user-oriented translation that takes regional differences into account.
Online Help Translation (User Interface (UI) Translation)
Translating online help files and UIs involves so much more than just translation. We utilize several QA tools and evaluation methods for quality control under the management of our experienced language leads (LL).
Workflow
ISO 17100-Compliant Translation Workflow
The ISO 17100 workflow is broadly split into three stages: pre-production processes and activities, production processes, and post-production processes. The necessary requirements for each process are set according to the ISO 17100 standards.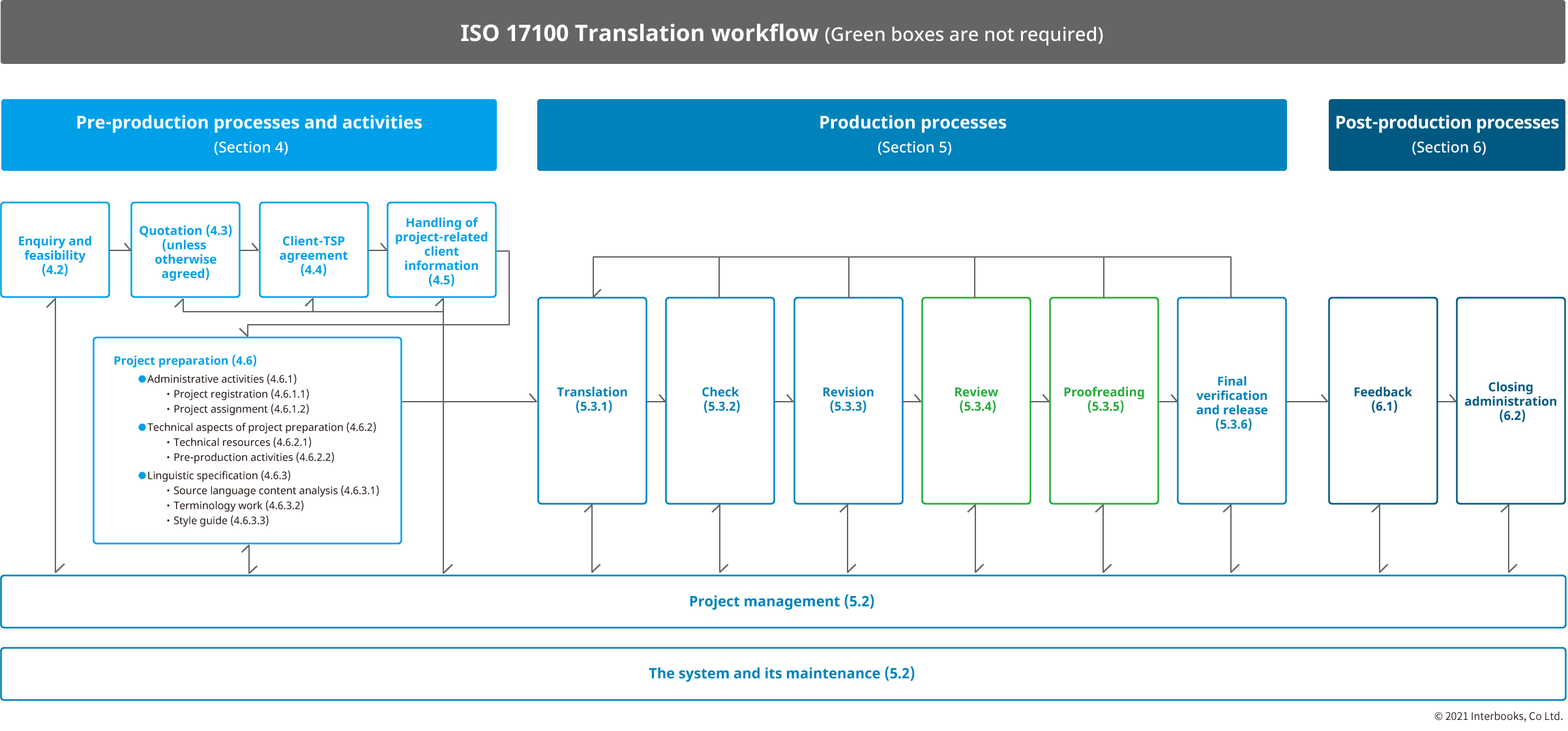 Evaluation Based on ISO 17100
We have also established a framework for evaluation centered around the four tenets of accuracy, fluency, terminology, and style, and take care to offer accurate translations that employ more natural-sounding language.
Interview
LL (Chief Language Lead) Profile
Worked in a wide range of positions at companies including Bowne Global Solutions (later Lionbridge) and SDL. Undertook large-scale localization projects spanning several sectors including IT, with experience in a plethora of roles, from translator to language lead, language analyst, and group manager. Currently oversees the language lead group.
Please tell us about the role of a language analyst.
Projects for companies that are looking to expand globally tend to be large in scale, so we can't start working on translation as soon as the sales department gets the job; in reality, there are several procedures that have to be carried out beforehand. In other words, a crucial part of the process is specifically working out how best to proceed. The role of a language analyst is to ensure that projects run smoothly and remain profitable by deciding the processes and rules, and guiding the project until the actual staff involved can take over. This kind of position has also been known as "solution architect." More recently, the titles of language analyst or language consultant have become well-established.
What would you say are the key points and difficulties for a language lead or language analyst?
With large-scale and multilanguage projects, the number of stakeholders increases. Project coordination—and its profitability—falls under the role of the project manager, however clients are paying for language quality, so language leads and language analysts are involved in making specific adjustments to the schedule and processes with the stakeholders and preparing as necessary in order that the entire project runs smoothly, while still ensuring language quality. Naturally, there's also a deadline to meet, so the difficulty is in finding the best way to advance the project while also dealing with limited amounts of both time and resources.
Can you tell us about localization tools?
In the early days, the major companies of the day were each using their own tools, however finally, the software Trados was adopted by Microsoft, and suddenly it became part of the mainstream (we can call this the era of desktop tools).
The focus these days is on developing cloud tools, however before this we had WorldServer (by Idiom Technologies, later bought out by SDL), and Logoport (later Translation Workspace) by Lionbridge. These were the first online tools. Both allowed translators to work offline, while all the translation memories and term bases were managed on the server side.
After that, Memsource, memoQ, and other tools were released. While these second-generation tools are predominantly created with online use in mind, they also provide tools for use offline. There are also tools that are completely online. SDL Trados Studio is an offline tool at its core, however its excellent editing functionality means that I can't part with it just yet. Still, I think that second-generation tools will continue to increase their share of the market from now on.
Within the company, you are responsible for developing and evaluating our pool of translators. Can you let us know what you are looking for in a translator, and is there any advice you can offer?
If we talk about the IT sector as an example, there are normally several tags within the translation source text, and simply put, if you don't know the meaning of these tags, you can't translate. In other words, you need to translate while also interpreting the meaning of the tags in the original text, which requires skills above and beyond those of an ordinary translator. Also, with end user manuals, as long as they are full of operation instructions like "click XXXX," the work tends to be fairly simple, however when it comes to administrator manuals, specifications, setting manuals, and similar where the difficulty goes up a notch, translators should have a good knowledge of IT in addition to ordinary translation skills as a matter of course. Knowledge of a specialized field on par with an engineer or technician is a huge advantage, and opens up more windows of opportunities.
What about sectors outside of IT?
In the last few years, there has been a huge demand for translating tech marketing, and more and more projects involve documents aimed at those with the authority to introduce new technologies. With that, it is now crucial not only to be able to create engaging Japanese, but to also have technological knowledge. In that sense, when these two elements are necessary requirements for translators, those capable of taking on such projects will be limited no matter what—so the issue is finding people who have both skillsets.
CAT & Checking Tools
Constant improvement is something we strive for, and we make full use of quality assurance (QA) checking tools (Xbench, QA Distiller) and several different types of CAT tools to ensure that terminology is consistent and translation efficiency is optimized.
We can complete projects using any of the main CAT tools, such as Memsource, memoQ, SDL Trados Studio, and XTM.